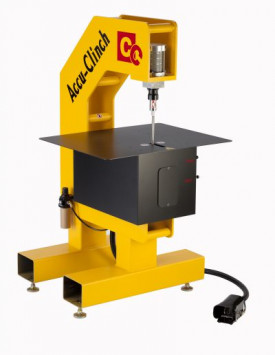 CLINCHER FEATURES
DIMENSIONS. 36 " w x 67" h x 40.25" d
AIR REQUIREMEN". 90-120 psi; 100 psi recommended; .01 cubic feet of air per clinch.
WORK AREA. Table: 36" x 28"; Throat depth: 20.75"
CYCLE TIME. 1/2 second per clinch.
Built to quickly and easily fasten aluminum or light steel parts together, the Accu-Clinch is the fastest way to assemble metal components to create a completed channel letter. With the Accu-Clinch, your operators can attach a back to a standard 24-inch channel letter in a matter of minutes without pre-drilling or rivets. The Accu-Clinch uses a bottom punch and top die to press-form two pieces of material together without rivets, staples or stitches, cutting the cost of consumables.
The Accu-Clinch features a 40 clinch-per-minute rate.
Cut the high cost of labor and consumables, and get the job done right with an Accu-Clinch.